07 Feb

Meet the Team: Kyle McAskill, Sales Manager UK

February 7, 2023
Meet the Team
Kyle McAskill, Sales Manager UK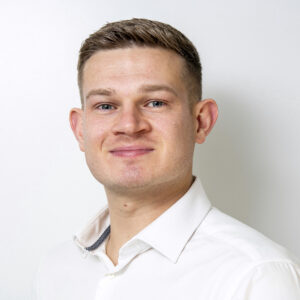 As a crucial element of our UK presence, Aberdeen-based Sales Manager Kyle McAskill has embodied the Group's commitment to a service-first approach since he joined the team in late 2020. Collaborating closely with clients, Kyle utilises his industry experience and insight to secure custom solutions that work for each customer's bespoke operations.
What makes you passionate about your role?
For me, being passionate is a crucial component of the role. Working in such a fast-paced and innovative environment requires passion and drive to ensure that I'm servicing clients and representing the Group's capabilities to the best of my abilities. With such a diverse bank of clients who all require tailored solutions for their own bespoke operations, passion and drive is part of the territory. Taking great care and being involved with each project I take on is a motivation in itself whilst it's always enjoyable to be able to find the right solution for each client.

The hands-on approach we apply across the Group, and our commitment to providing innovative solutions allows us to see the results we achieve for our clients with our own eyes, and then we can see how that benefits Hendrik Veder Group. If it's about lifting, mooring, towing, or rigging, the wider Hendrik Veder team and I are always looking to find a sustainable, cost-efficient, and environmentally beneficial solution. Knowing we are achieving that is a huge advantage of my role.
What is it you think separates Hendrik Veder Group from its competitors?
To be honest, there aren't too many competitors that have the heritage we do. Having been established in 1800, to still be going from strength to strength all these years later is a testament to the solutions we provide and the unique insight we have. Although I only joined the team a little over two years ago, it was clear that the Group's proud history and experience still influence how we tackle projects even today through our vital values that hold our customers at the heart of everything we do.

You can't survive without adapting to the times. Our rich heritage is a source of pride, but it's never held us back. Instead, we are always looking for forward-thinking ideas and solutions that can help transform a client's operations. Not just in the steel and fibre wire rope solutions we offer, but our integration of contemporary IT platforms to ensure that we are managing client projects as efficiently as possible.

Thanks to our fantastic supplier relations and our growth, we have access to a wide berth of products situation in various locations across Europe. That allows us to offer clients alternatives that not many competitors can.
Considering your background in sales, how do you think the industry is impacted by recent changes in supply and demand?
Whilst it's no doubt that there have been obvious challenges that have impacted everyone across industries over the last few years, it's been crucial to focus on how to respond to these challenges and how we can continue servicing clients. Joining amidst the pandemic in 2020, it's been invigorating to see how the Group has stepped in despite the challenges to try and make a difference for customers.

One of the biggest takeaways has been the change in customer attitudes and how we can respond to new demands. No longer are they looking for a product-driven service, instead, it's all about what else we can offer. That is where our insight and experience have been crucial. We are able to identify solutions and services that provide more value to customers than just supplying products.
Where do you see Hendrik Veder Group, as well as your role within the Group, in changing industry attitudes and helping to accelerate sustainability goals?
One of our core values is our drive towards helping our customers achieve sustainable solutions, extending across the whole Group and everything we do. For me specifically, my role is vital in showcasing our live examples, i.e., how we are already helping customers achieve this by repurposing old ropes. By taking pride in our ESG goals and having proof of the sustainable work being done, it allows us to have the backing that shows sustainability isn't just a marketing message but something that is at the core of our work.

The work I've experienced since joining has led me to firmly believe that Hendrik Veder Group is going to play a huge and vital role in helping the world realise that the disposal of old lifting products is no longer the way forward.
With previous experience in sales and business development roles throughout your career so far, how does your experience contribute to the development of Hendrik Veder Group's UK/Aberdeen presence?
Born and bred in the North-East, the energy sector has influenced so much around me, naturally paving the way for me to take that understanding and interest in the significance of the industry and applying it to my career.

My role within the Group allows me to combine my passion for speaking to existing clients and seeking out new connections and opportunities and using that to support the industry which has played a huge part in my life in Aberdeen, helping to accelerate the drive and growth within the energy transition.
How are you hoping to use your own insight and experience to help Hendrik Veder Group reach its goals for 2023?
Part of my focus going forward is to explore how, as a company, Hendrik Veder Group can strengthen its position and image as a bespoke solutions provider rather than a company which is product-driven. Pivotal to this representation and looking at our public image and what customers expect from us is our approach to reaching sustainability goals and how we are applying those targets to our solutions.

Providing unique solutions and offering expert advice is still paramount for us, but making a positive difference in the process through our sustainability measures will be key to establishing further growth for the Group, helping us reach our goal of being the number one lifting solution provider in the market.