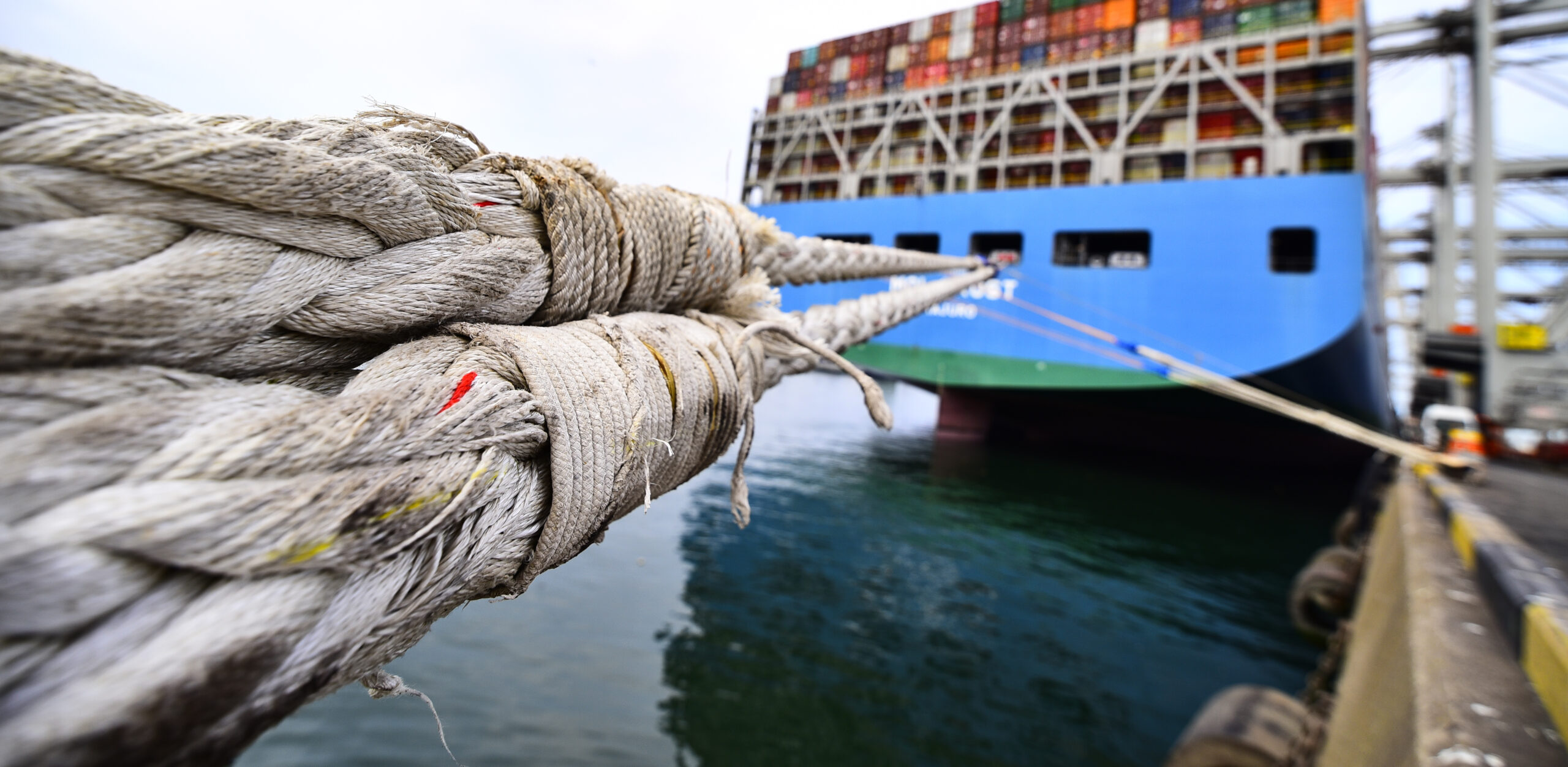 10 Jan

CEO's KOTUG en Hendrik Veder Group: "Duurzaamheid en groei gaan hand in hand"

January 10, 2023
CEO's KOTUG en Hendrik Veder Group: "Duurzaamheid en groei gaan hand in hand"
Deze Rotterdamse bedrijven helpen maritieme, offshore en havensector verduurzamen
KOTUG en Hendrik Veder Group helpen de maritieme, offshore en havensector verduurzamen. In dit dubbelinterview vertellen Ard-Jan Kooren (CEO KOTUG) en Egbert Vennik (CEO Hendrik Veder Group) hoe ze dat aanpakken en hoe innovaties en slim kabelbeheer bedrijven duurzamer en effectiever laten opereren. Volgens Kooren en Vennik gaan groei en duurzaamheid namelijk hand in hand.
Duurzaamheid kan winstgevend zijn
Waarom is het eigenlijk belangrijk dat bedrijven in de maritieme, offshore en havensector verduurzamen? Kooren: "Bedrijven hebben te maken met harde deadlines en sommigen werken al toe naar nul procent uitstoot. We helpen ze door onze kennis op het gebied van duurzaamheid te delen, zodat uitstootvrij vervoer overzee en binnenwateren mogelijk wordt. Of het nou gaat over het gebruik van brandstoffen of het slimmer benutten van grondstoffen en middelen (assets), we moeten bestaande businessmodellen toekomst-klaar maken."
Vennik sluit zich daarbij aan: "Hergebruik van grondstoffen maakt een bedrijf minder afhankelijk van Rusland en China en het is bovendien duurzaam en goedkoper. Duurzaamheid en winstgevendheid gaan hand in hand. Het is geen kwestie van liefdadigheid, maar van slimmere verdienmodellen."
KOTUG: uitvinder van duurzame oplossingen
Familiebedrijf KOTUG staat bekend als innovatief; zo won het o.a. de Maritime Innovation Award en de Koning Willem I-Prijs voor diens innovatieplannen. Het bedrijf vond in 1999 de Rotortug uit, een innovatieve sleepboot die het vermogen over drie in plaats van twee motoren verdeelt en daardoor veel minder vermogen nodig heeft en dus energiezuiniger is. In 2012 was het een van de eerste bedrijven ter wereld met hybride sleepboten. Inmiddels maakt KOTUG ook al volledig elektrische duwboten en bakken. De casco's van de boten zijn o.a. gemaakt van recycled plastic.
Kooren: "De scheepvaart is vrij traditioneel, waardoor we als disruptors worden gezien. We gebruiken bijvoorbeeld VR-brillen om ervoor te zorgen dat er geen experts hoeven af te rijzen naar offshore boten, maar 'virtueel' aan boord gehaald worden. Onze AI-oplossing voor havenmanagement zorgt tot wel dertig procent brandstofbesparing, doordat boten precies weten wanneer ze in de haven moeten aanmeren en wanneer de volgende klus begint. Die AI-systemen zijn zelflerend, wat ervoor zorgt dat we straks autonoom varende boten op het water hebben liggen. Zo zetten we innovaties in om kosten en CO2 te besparen."
Vennik merkt op dat innovatie ook bijdraagt aan employer branding. "Als Hendrik Veder groeien we hard, maar weten we altijd nieuw personeel te vinden. Dat komt doordat we bezig zijn met iets wat veel mensen aanspreekt: innovatie en duurzaamheid. Of het nou op kantoor of in de fabriek is: werknemers zoeken naar werk met betekenis. Dat zorgt voor een voorsprong in de war for talent."
Hendrik Veder Group helpt verduurzamen
Wat KOTUG en Hendrik Veder Group gemeen hebben, is dat ze beide in een competitieve sector opereren, inzetten op innovatie en duurzaamheid en (daardoor) weten te groeien. Vennik: "Waar KOTUG inzet op duurzaamheid door vernieuwende innovaties, helpen wij bedrijven met het zogenaamd 'laaghangend fruit'. Dat doen we door kabels te verhuren, recyclen of herstellen. We laten onze partners zien hoeveel CO2, kosten en grondstoffen ze daarmee kunnen besparen. Dat leert bedrijven in de haven, offshore en maritieme sector hoe ze duurzamer en effectiever kunnen opereren."
Kooren: "Hendrik Veder en KOTUG hebben gemeen dat ze verduurzamen financieel aantrekkelijk maken. Ik verbaas me er al langer over waarom kabels niet vaker gebruikt zouden kunnen worden, als ze nog in goede staat verkeren. Inspirerend is dat concurrentie plaatsmaakt voor samenwerking. Innoveren en verduurzamen lukken alleen door samen onze schouders er onder te zetten."
Vennik: "Vroeger was het vloeken in de kerk om voor te stellen dat je de kabel van een concurrent zou gebruiken. Maar als wij weten dat een ander bedrijf een prima kabel elders opgeslagen heeft, is het zonde om een nieuwe kabel aan te schaffen. Nu is men zich ervan bewust dat hergebruik grote winst oplevert, zowel op ecologisch als economisch vlak."