27 Jun

Hendrik Veder Group prevents 42,000,000 KG of emissions

June 27, 2023
Hendrik Veder Group prevents 42,000,000 KG of emissions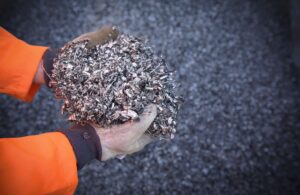 Hendrik Veder Group, the provider of products, services, and solutions for steel cable and synthetic rope, has announced it has the capability to prevent 42,000,000KG of emissions through its sustainable solutions.
Through its ability to recycle steel cables, Hendrik Veder Group is expecting to avoid 42,000,000 kilograms of CO2 emissions and aiming to recycle enough steel between 2023 and 2026 that is roughly the equivalent of 950,000 bikes worth of steel – almost twice the number of total bikes that are in Scotland.

With companies that operate in and around ports instructed to comply with increasingly stringent sustainability requirements, the specialised solutions provided by Hendrik Veder Group can help these companies contribute to their sustainability goals.
These latest figures come after the previous success of similar projects and initiatives. In 2022, Hendrik Veder Group launched a program to recycle steel cables, saving 2,000 tons of steel during its pilot phase – the equivalent of avoiding 5,200 tons of CO2 emissions. Following this successful pilot, Hendrik Veder Group has significantly increased its output of recycled cables, aiming to prevent approximately 42 million kilograms of CO2 emissions between 2023 and 2026.
Discussing this ability to assist companies in reducing carbon emissions, Hendrik Veder Group CEO Egbert Vennik said: "We assist them with what we call the 'low-hanging fruit.' We do this by renting, recycling, or repairing cables. We show them how much CO2 emissions, costs, and resources they can save so that they can immediately see how they can operate more sustainably and effectively."
"In the past, it was frowned upon to suggest using a competitor's cable. But if we know that another company has a perfectly good cable stored elsewhere, it would be a waste to produce a new one. More and more, companies understand that reuse leads to savings, both ecologically and economically."
"When discussing the numbers involved for kilograms of CO2 emissions or tons of steel, many people will struggle to visualise such an abstract number. By averting the need for new steel cables to be produced by recycling used cables or refurbishing them, until 2026, we prevent the production of an amount of steel equal to the weight of about 950,000 bikes. In Rotterdam, where our headquarters are based, there are about 475,000 bikes, and in Scotland, about 500,000 bikes. If you were to weigh the combined total of bikes, that would roughly be the amount of steel that no longer needs to be produced when repairing and reusing cables. This is how Hendrik Veder Group hopes to contribute to the sustainability ambitions of companies in and around ports across the UK and Europe."
About Hendrik Veder Group
Hendrik Veder Group is a European company that operates globally from its offices in the Netherlands, England, Scotland, France, Norway, and Poland. The company's headquarters is located in the Rotterdam port. The company provides products and services worldwide in the field of steel cable and synthetic rope, which are crucial for the offshore and maritime sectors, as well as comprehensive solutions and services for various other industries. Hendrik Veder Group has the ambition to make the maritime sector more sustainable. Together with its leading clients, Hendrik Veder Group helps operators achieve sustainability goals in innovative ways. This involves inventory management, maintenance, and circular approaches to raw materials, resulting in new cost-effective solutions. At Hendrik Veder Group, sustainability and economy go hand in hand.